Post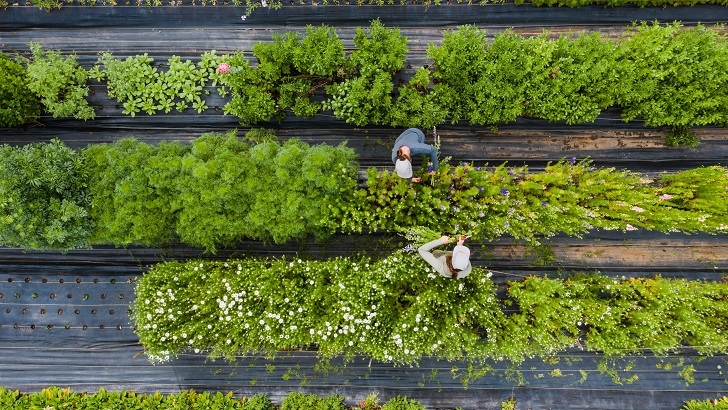 Organic farming
Let's talk about organic farming. This is an agricultural system that utilizes green manure, compost, biological pest control and crop rotation to produce crops, livestock and poultry. It's a system that cultivates resources to conserve biodiversity and support ecological balance. Some of the primary aspects of organic farming are to augment the soil's biological activity, enhance the fertility of the soil, and use green manure, cover crops, animal manure, and soil rotation to disturb the habitation of pests and diseases. Synthetic chemical fertilizers, antibiotics, herbicides or pesticides aren't used in organic farming. The goal within organic farming is to manage agricultural production in the best natural way. Organic farming contributes added protection to the soil which in turn is crucial for exceptional productivity.
Organic farming isn't about increasing or maximizing a greater yield of productivity, but rather ensuring the sustainable production of high quality healthy food while maintaining crop and livestock diversity and respecting the environment. Organic farming contributes to energy conservation through making extensive use of direct solar energy and saving other energy sources taken directly from the earth's resources. It also contributes to the reduction of water and air pollution in that pesticides, herbicides, synthetic chemical fertilizer residues do not enter the air or water which reduces the costs for the state to pay for water treatment. Organic farming contributes to the overall health of the population since organic produced food improves the health of those who consume it which positively impacts the states's expenses and costs of healthcare. Sustainable farming creates an environment that attracts tourists which can improve the state economy. Small farms become more integrated into the system since they are involved in production and the education system which encourages a reduction of unemployment and decreases social exclusion of the rural population. The initial costs of organic farming may be higher, but its impact are cheaper and more efficient in the long term.
Farmers in organic farming need new sustainable mechanization to help ease and reduce hard labour, relieve labour shortages, improve agricultural productivity and timeliness of operations, advance the efficient use of resources, boost market access, and assists in alleviating climate related hazards. According to a report from the World Bank, demand for food will increase by 70% by 2050; at least $80 billion annual investments will be needed to meet this demand. They say that agriculture finance empowers poor farmers to increase their wealth and food production to be able to feed 9 billion people by 2050. In order for farmers to be able to do this, farmers need to have access to improved agricultural tools and sustainable mechanization. A UN report states, "Sustainable mechanization supports the development of food supply chains through improved agricultural practices for increased production and enhanced food security." Sustainable mechanization applies to simple basic hand tools to more advanced and motorized equipment. It involves agricultural land preparation, reinforces timely seeding and planting, weed control, consolidates pest management, provides for precise fertilizer application and much much more.
Sustainable mechanization can increase the power supply to organic farming and that means more tasks can be completed at the right time and greater areas can be farmed to produce greater quantities of crops while conserving natural resources. Using sustainable mechanization can enable farmers to produce crops more efficiently by using less power.
One way to provide for this need is to match organic farmers with the right retail investors. Retailers have longstanding relationships with their customers which means they want to invest in farmers who can meet the supply and demand of their customers. Agriculture finance and sustainable investments in agricultural projects can ensure that the right retail investors are building worthwhile relationships with organic farmers who have access to sustainable mechanization. This will help to provide market-based safety nets, and fund long-term investment to support sustainable economic growth.
Sources:
What is sustainable mechanization | Sustainable Agricultural Mechanization | Food and Agriculture Organization of the United Nations (fao.org)
Agriculture Finance & Agriculture Insurance (worldbank.org)
---
28.02.2022