Post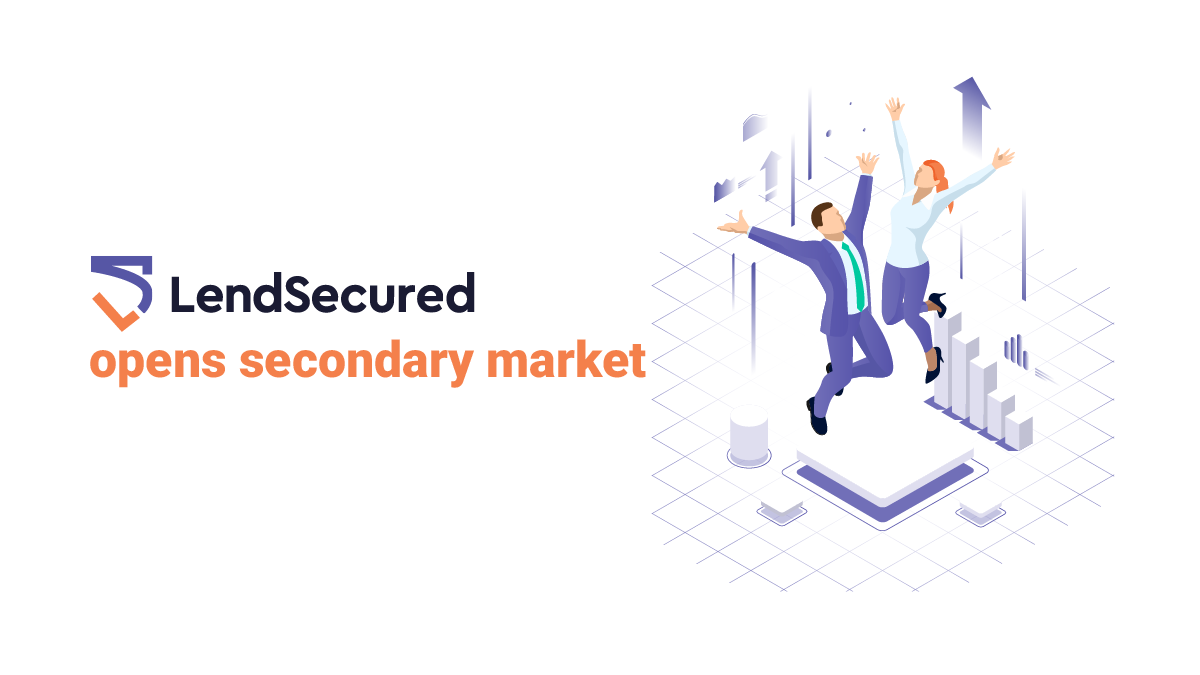 LendSecured Launches Secondary Market
LendSecured Launches Secondary Market!
LendSecured has always put the safety of its investors first and has been proactive in introducing new solutions that benefit customers. Development of the Secondary Market (SM) just two months after launching the LendSecured platform confirms our dedication to providing a superior investing experience where customers have greater control.
Why Investors Need a Secondary Market?
Crowdlending is considered an alternative investment, which comes with its own set of specific risks. Some of such risks – is the liquidity risk. Liquidity risk is the difficulty of exiting or selling an investment to get cash quickly. The launch of the Secondary Market removes such risk, as LendSecured offers an opportunity to exit your investment early.
Why Investors Might Want to Exit Early?
Your plans change constantly, as a famous Greek Philosopher once said- "nothing is constant except change". Especially this current crisis, caused by external factors, such as pandemic can alter our investing plans. Many investors in the crowdlending platforms have experienced difficulties in selling their holdings when they needed cash urgently. With the introduction of the Secondary Market, this will no longer be impossible. Once the plans change, or investors who experience a cash flow shortage will be able to put their investment in LendSecured for sale.
However, panic selling is not recommended as sometimes bad news in the economy may trigger the urgent sale of assets, not because there is a rational reason to do so, but because the "herd instinct" kicks in. Just like with investing, selling on the Secondary Market should be an informed and carefully evaluated decision.
What is Liquidity?
Liquidity is a term widely used in the finance and investment industries. When the investment is liquid, you can sell it any time you want and get the cash. The more liquid is the investment, the greater the safety investor has as the cash received back quickly can help in some unexpected situations. American T-bonds is considered one of the most liquid assets, as it can be sold anytime and very quickly, as the demand for them is very high. Some other investments may take longer to get sold, as there are not so many buyers, therefore liquidity is low.
When placing your holding in LendSecured for sale on Secondary Market, make sure the terms are acceptable (there is no premium), not even a heavy discount (as this might make potential buyers worried). Generally, speaking, act just like with any other buying and selling situation.
How Secondary Market Works from a Legal Perspective?
A secondary market is technically possible, just like the primary market through the LendSecured platform. On Secondary Market, however, the clients themselves can place a deal for the investment. On Primary Market (original offering of projects for investments), only the platform operator can place the investment deals. From the legal side of the deal, the investor who has contributed money to the project has a right to sell his or her claim right for this deal. The buyer acquires these rights on the SM and becomes the investor in the project.
Why LendSecured Decided to Launch SM?
Many might wonder, why in the first place the platform wants to launch an option to sell claim rights on the Secondary Market. We are not doing it for profit, as there are completely no fees to sell your investment, we do it for the comfort of our investors. For the above-mentioned reasons, investors feel safer when they have an option to exit early. On the other hand, there are potential investors who missed their chance to invest in a certain project, which already has collected the maximum investment. This is a great chance to become an investor even after the deadline.
When the investing experience is intuitive and comfortable, the investors are feeling safe. Our aim is to become your partner, therefore we are thinking about all possible scenarios. Some investors want to sell their holding, while others want to enter the project, Secondary Market solves these two problems while giving credibility to a platform.
Are there Any Other Useful Features?
Once you have decided to sell your investments in the Secondary Market, you have a chance to change your mind. If no one decided to buy your offering, you can cancel your selling order at any time. Moreover, in the meantime your investment is sold on the SM you will receive the interest payment that you normally would receive if you haven't placed it for sale. The interest will be paid until the transfer of claim right will be finalized.
We at LendSecured hope that the introduction of the Secondary Market will assist you in planning your financial future and achieve investment goals. Freedom to exit the investment is something that we offer to our investors in order to feel more secure and to develop long-lasting investment relationships.
---
07.10.2020