Post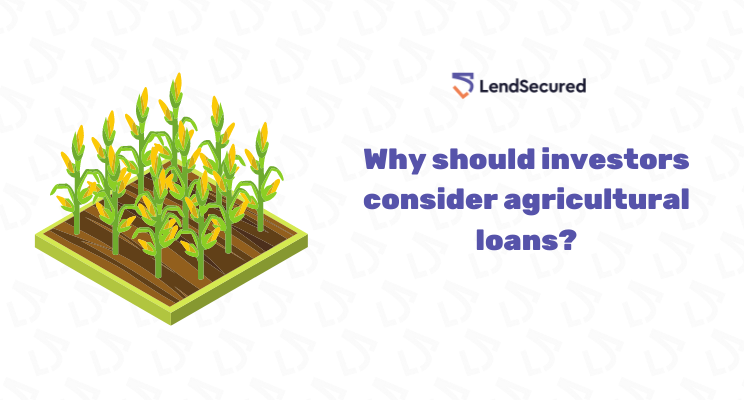 Crowdfunding – Why Should Investors Consider Agricultural Loans?
Crowdfunding has become increasingly popular in recent years online. It offers new projects or businesses the chance to raise money from a wider audience, allowing them to expand their business and create change for their local community. This form of alternative finance is beneficial to all parties involved, and the global crowdfunding market size is expected to reach $114 billion this year. LendSecured is a crowdlending platform that connects farmers with investors. There are so many reasons why investors should consider agricultural loans, so keep reading as we discover the benefits our platform could offer you in the future.
Why is Crowdfunding so Important for New Businesses?
Crowdfunding is critical for all types of businesses, but no more so than those operating within the agricultural industry. Our team works with grain and real estate projects, and we aim to resolve the lack of funds within small and medium businesses within this sector in Europe. As well as profiting from your investment, you'll be driving innovation within rural Europe. Our products satisfy environmental, social, and governance (ESG) criteria, so you can be sure your money is going somewhere worthwhile. Crowdfunding has allowed millions of small business owners to make an impact on their local community thanks to the investments they receive online. Without investors like yourself coming forward, their business would likely never get off the ground.
For businesses who opt to use crowdfunding, it can offer them the validation and social proof they need to start moving forward. They receive fast access to cash, which can sometimes be impossible when working with traditional funding solutions today. Investors find this to be an exciting modern investment opportunity, and they appreciate the chance to get involved with projects they are passionate about. Even if you have never invested in the agricultural sector before, you'll find our experienced team will minimise the risk involved and make it a worthwhile opportunity for you.
What Projects Can You Invest in on LendSecured?
Our site features a wide range of agricultural projects that are carefully evaluated before joining our site. Less than 10% of the projects we review make it to LendSecured, so you can be sure they are all handpicked by our experienced team. The need for funding within the EU agricultural sector currently stands between 7.06 billion and 18.6 billion euros. Our team hopes to offer EU farmers better access to funding while providing our investors with an exciting investment opportunity. When browsing our site, you'll find the LTV ratio clearly marked, so you can weigh up the risk involved with each project. We want you to have complete confidence when using our crowdfunding platform so that you minimise the risk involved with investing.
Why Should You Invest in Agricultural Loans?
Agricultural loans offer EU farmers the funding that's so desperately needed for their new and existing projects. As far as investing in these projects, you'll find the maximum LTV is 50%, the annual return is 12%, and our dynamic loan terms are between six and twelve months. If you've never invested in this type of project, you might be concerned about the risk involved. However, we offer crop insurance to protect against loss by natural disasters, and all loans to legal entities come with a personal guarantee from the owner. Seasonal funding for farmers is critical for their livelihood, as they are regularly rejected for typical bank loans. Without crowdfunding platforms, they wouldn't be able to fund their work, a lot of which is sustainable and protects our environment for future generations.
The Benefits of Sustainable Investments
Here at LendSecured, one of our core values is to protect the environment and society. We always think green and hope to attract investors who want to use their funds to benefit society at large. We work with small farmers who use environmentally safe farming practices in order to grow their crops. Investors are now more aware of the projects they are backing, thanks to the wealth of information available online. We highly recommend looking into sustainable investments, and we only see this sector gaining more attention as time passes. As well as boosting economic growth in the EU, you'll help to encourage sustainable practices for future generations of farmers. Sustainable investing helps to contribute to creating a better world. Your capital can work in a way that will positively influence our society and work towards a more sustainable future.
It's no secret that our planet is facing huge challenges with climate change. However, we are also struggling economically and socially. While we know it's up to the governments and large companies to make big changes to the way in which they work, we can also use our voice to create change. Investors have the power to shift how companies operate, regardless of whether you are a large asset manager or an individual investor. By choosing to support sustainable companies, you'll not only have the opportunity to enjoy good financial returns, but you'll be contributing to more than just your own future. The issues our planet is facing can't be solved overnight, but with more people using platforms like LendSecured, you can be part of the change that's needed for the future.
Our mission here at LendSecured is to offer investors in Europe asset-backed agricultural projects with potentially high returns. We hope to help you reach your financial goals in the upcoming years, and we offer full transparency on our site when selecting projects to invest in. As you can see, there are so many benefits of investing in crowdfunding and agricultural projects. We highly encourage you to think about putting your funds towards sustainable projects, as this is how we can use our resources to make the world a better place. For more information about working with LendSecured, visit our current projects here. Don't hesitate to contact our team today with any questions you have. We'll be happy to discuss anything about our LendSecured projects, and we look forward to welcoming you to one of our projects in the near future.
---
28.10.2021